[NSFW - Language] John Goodman stars in a Funny or Die short created by Nick Corirossi that expresses Colonel Sanders' love for gays. The video arrives two weeks after Chick-Fil-A president, Dan Cathy, stated his franchise is 'guilty as charged' in support of the traditional family. While some Chick-Fil-A restaurants disagree with Cathy's statement and personal beliefs, Cathy's words are reflected in the company's 2010 charitable activity, supporting anti-gay groups with nearly $2 million in 2010.
[Link]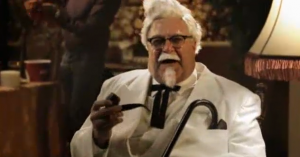 Dan Cathy's Anti-Gay Stance.

Follow Most Watched Today on Facebook and you will always have the best online videos.